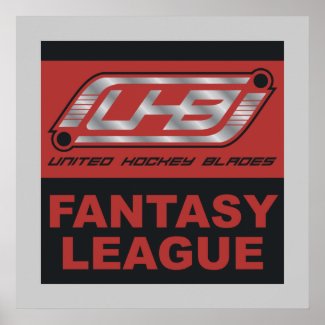 UHB Square Logo Posters
by
unitedhockeyblades
View more
framed poster art
at zazzle.com
Hey hockey fans. It's that time of the year that we all look forward to; a new NHL season! With that comes a new fantasy hockey season also; or maybe not. You might have noticed that this post's title ends in a question mark. The reason for that is it remains to be seen whether NHL owners will lock out the players and if they do, for how long? Will it be the same as it was in 2004-05, when the entire season was cancelled? Only time and greed will tell.

In any case, the UHB still has to conduct business as usual in case there is a season to be played. That means gearing up for our annual fantasy draft. This will be the UHB's 4th season but the first in which managers are allowed to keep some players from last season's roster. This is what is referred to as a dynasty or keeper league. In this case, managers will be allowed to select 5 players in total from last year's team but only able to keep one goalie. If you were a manager last season, check your inbox for your invitation to join again this season.

Keep your fingers crossed and your stick on the ice.